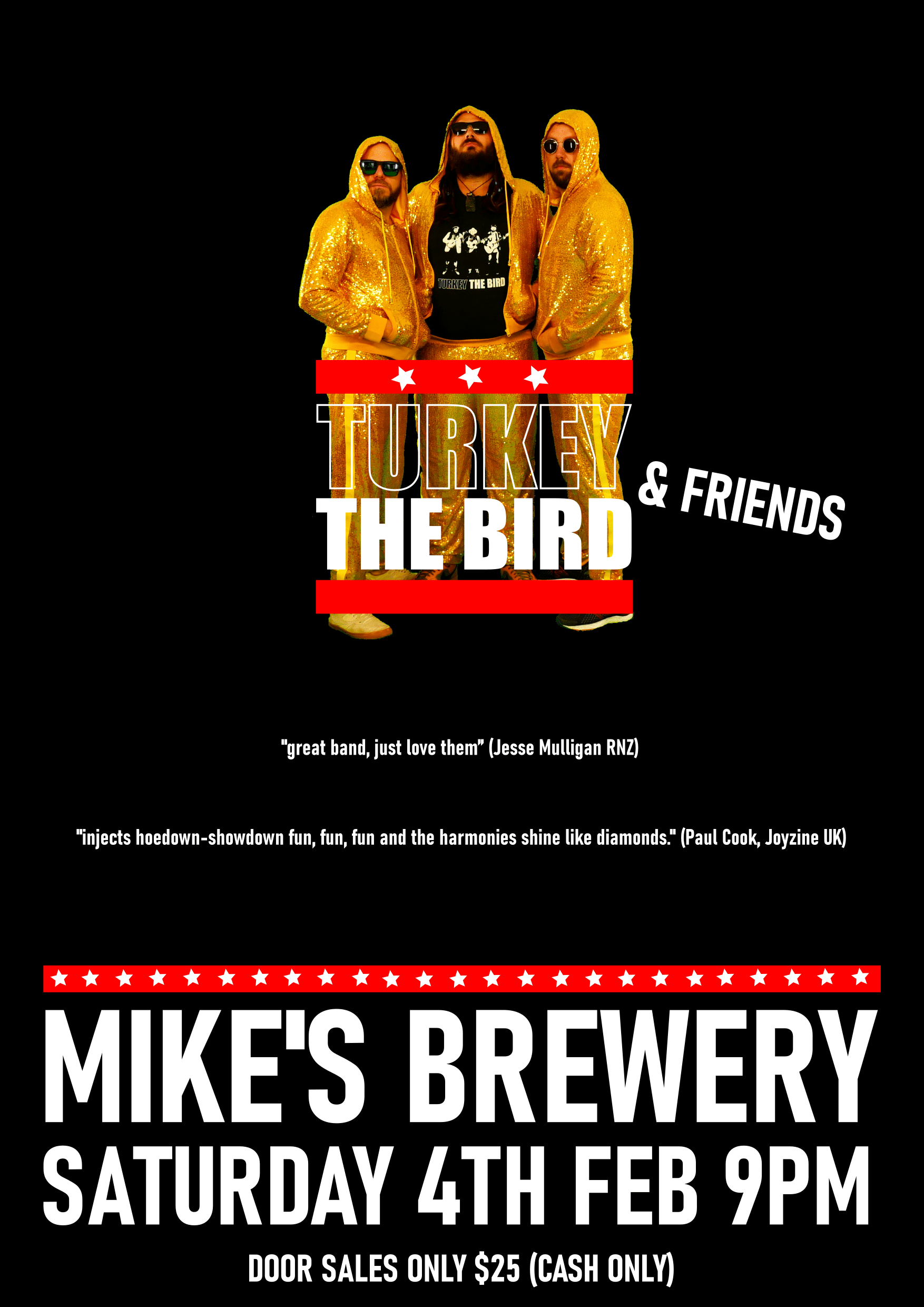 Date
04 Feb 2023
Expired!
Turkey The Bird & Friends
Join us for this special show featuring some really exciting special guests….
Geoff Notman on drums
Krissy Jackson on fiddle
Wayne Morris on washboard
Matt Sturgess on guitar
New Zealand's folk trio "Turkey The Bird" will remind you of the famous Margarita cocktail infused with a hint of "Simon & Garfunkel", 2 ounces of "Mumford and Sons", a splash of banjo and served on ice on a sunny day.
Catchy folk songs with stunning rich melodies and effortless smooth lyrics. Songs that tell uplifting stories about love and life.
Hailing from the New Zealand left coast town New Plymouth, this uplifting band will hit you with beautiful three part harmonies and toe tapping rhythms.
The bearded trio features Andre Manella from Switzerland on guitar, bass and percussion, Adrian Whelan from Ireland on guitar, mandolin, bass and spoons,
and Sol Bear Coulton, the token kiwi, on Banjo and slide guitar.
"injects hoedown-showdown fun, fun, fun and the harmonies shine like diamonds." (Paul Cook, Joyzine UK)
"cruise along and let the harmonies wash over you like the warm waves of the Bahamas"
(Paul Cook, Joyzine UK)
"and this is plain brilliant." (Kev Rowland, Muzic.net.nz)
"I am not going to lie, this is my new favourite band of 2021. (Chris Chick, Muzic.net.nz)
"That's Turkey The Bird, great band, just love them" (Jesse Mulligan RNZ)
Opening set by Wayne Manson
Entry $25 on the door (cash only)