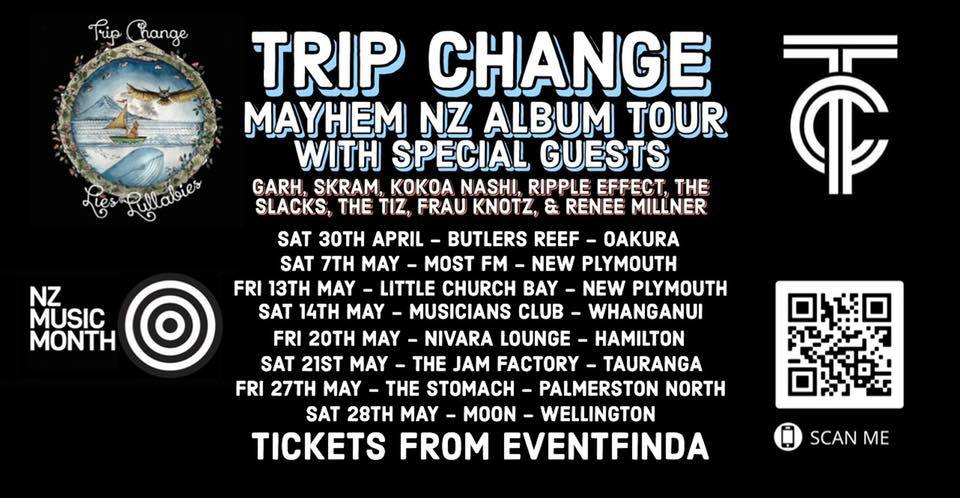 Date
13 May 2022
Expired!
Time
Get there early, finished by 9PM
6:00 pm - 9:00 pm
Trip Change Mayhem NZ Album Tour – Little Church Bay
** TRIP CHANGE MAYHEM NZ ALBUM TOUR – LITTLE CHURCH BAY – NEW PLYMOUTH **
WITH SUPPORT FROM BETSY AND THE RECKLESS & DJ MIGUEL
EARLY SHOW!! DOORS AT 6PM
BYO!
"Such a fun and playful vibe" – Francis Kora; frontman of KORA
"Hip Shaking – 9 out of 10 without a doubt, I almost had to call the emergency services in for a full hip replacement… Great vibes" – Chris Chick from muzic.net.nz about our single "Never Seen a Boy Like Me"
Trip Change are a fresh new band from Taranaki, New Zealand, who write and perform original music – full of organic rhythm and soul. The band formed when Waru Waiwiri-Hetet (Lead vocals and lead guitar) and Ben Payne (drums) met while playing in various music projects in New Plymouth's busy entertainment scene. The connection between Hetet and Payne was instant, each recognising the other's talent and passion for music. A collaboration was inevitable and Trip Change was created.
In early 2019, the two founding members of Trip Change began their collaboration and a collection of songs started to form. Trip Changes unique sound takes elements from soul, jazz, psychedelic, ska, reggae and rock music and embodies the search for new pockets of melody, the hunt for deep bass rhythms and arrangements which take the listener on an eclectic journey through soulful soundscapes.
Trip Change amalgamates many different genres of music together. Music should have the ability to change your mood, and this album does that – you are guaranteed to be smiling by the end. When the melodic ska beat and deep bass line hit listeners, they will be ready for a good head bobbing & hip shaking, you cannot help yourself.
Trip Change are releasing their highly anticipated debut album 'Lies & Lullabies' May 6th 2022 and heading out on tour this May. Catch them at a town near you!
Trip Change – a diverse, soulful, organic sound; something for everyone!
https://www.eventfinda.co.nz/2022/trip-change-mayhem-nz-album-tour-little-church-bay/taranaki?_ga=2.69417296.1793401141.1652085447-1775323982.1650231397