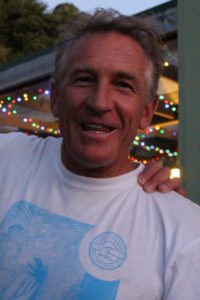 Jack Irving
After discussion with the then Station Manager ,Dave Haskell. I began hosting The Weekender show on Friday nights from 7-9pm in 2006. My love and enthusiasm for all things musical began before my teens, but really coalesced in my late teens and early twenties. It was then that I began making mixtapes for our regular long distance surf trips. These 60 or 90 minute mixes would begin with something cruisy,quirky or instrumental and then pick up in pace to become a bit of a party/driving soundtrack from the middle to the end. I still make mix CDs in the same way now.
In my thirties I opened a popular city bar and nitespot called Burundi and had great fun presenting live acts and DJs to my patrons.At the start I hired local DJs but soon realised I had a more accurate take on what my customers wanted to hear.The club ran for the 90s- It was a 20th Century thing...In the mid 90s I visited London and caught the tail end of the dance music revolution that started with Rave and now encompasses the likes of Disclosure,Rudimental and our own Lorde.I guess you could call me a funk soul brother,and at the MostFM i have truly found my "happy place" .New music gets me out of bed in the morning and I love spending time with like minded Mosties-Vollies and listeners...
Natalie Bull
Hi, I'm Natalie, I take care of all things administration at the Most FM to ensure the smooth operation of Taranaki's Community Radio Alternative.
I love the vibe and energy that over 40 volunteers create for the common goal of music and friendship!
I trained as a chef in Wellington and co-owned 2 cafe's with my husband Nick, before moving up to Taranaki to open the Shoe Clinic & raise our 2 children Charlotte & Patrick.
We absolutely love Taranaki, especially the great outdoors; Pukekura Park is such an awesome spot and we always look forward to concerts at The Bowl of Brooklands!
I have always enjoyed listening to music and going to concerts, however the Most FM has definitely broadened my musical horizons – thanks The Most!